CLEANERS, POLISH & WAX
Our rosins, cleaners and polishes are hand made in small batches using the finest of ingredients sourced from around the world. We make all products by hand in our Florida workshop.
"… a brilliant design and not only do I congratulate you but I cannot thank you enough for solving this age-old problem. I'm always excited by innovative user-friendly products."
Gary Karr

– the Worlds Leading Solo Bassist
Orchestral Care Products
OLD MASTER BOW HAIR CLEANER & CONDITIONER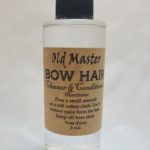 Old Master Bow Hair Cleaner was specifically designed not to interfere with the bows sound and performance. It contains moisturizers and conditions keeping your bow hair supple. Unlike using rubbing alcohol, this product will not damage the bow hair, even with repeated use.  Old Master Bow Hair Cleaner is also used when your bow is not responding properly because of rosin build up. And is perfect for seasonal rosin changes. Reduce wear on the bow, increase its' longevity and reduce the need for frequent bow re-hairing by using Stravari's Bow Hair Cleaner.
MSRP $12.50
---
OLD MASTER MILK
Old Master Milk produces a high gloss shine on lacquer or high gloss finishes.  It is a polish and cleaner that contains mild polishing compounds and waxes to bring a high gloss finish to a brilliant shine.  This product  offers superior performance.  If you desire a softer shine, see Old Master Polish listed below.
MSRP  $9.95 – 3 oz,  $19.95 – 9 oz
---
NEW –  ORANGE STRING CLEANER & ROSIN REMOVER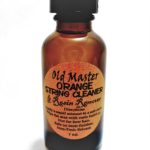 Old Master Orange String Cleaner and Rosin Remover has been formulated to take advantage of the powerful cleaning action of d-limonene found in oranges, while reducing its finish-stripping properties.  In order to do that, Stravari blends it with various non-toxic solvents.  This way, their Orange String Cleaner cleans the instrument without damaging the instrument.
MSRP $12.50
---
STRING CLEANER & ROSIN REMOVER – Original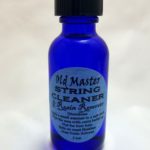 Old Master String Cleaner and Rosin Remover is made of a non-toxic solvent that is safe on most all finishes. This product is more aggressive than cleaning with Violin Spit.  The String Cleaner and Rosin Remover was formulated for the occasional removal of rosin build-up on bow sticks, instruments and strings.  This formula is also extremely effective for removing dirt, oils and waxes from the surface of your instrument. Most of the rosin removers on the market are highly toxic and contain aromatic solvents along with carcinogenics. The Old Master String Cleaner and Rosin Remover however is completely safe on your instrument; while being tremendously effective for cleaning your instrument, bow and strings.
After cleaning your instrument with Old Master String Cleaner and Rosin Remover, you'll need to apply a fresh coat of protective wax. The Old Master Wax or Old Master Polish (below), is the perfect product to seal the raw wood from dirt, moisture, rosin acidity and humidity changes.
MSRP $12.50
---
PEG MAGIC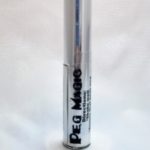 Peg Magic is a revolutionary friction peg compound. It provides the perfect balance of slip and grip to allow the pegs to hold firm and turn smoothly. Our Magic Wand applicator allows for an accurate, controlled application. Used properly Peg Magic will never "creak" like peg drops or get "gummy" like wax based peg dope. Peg Magic is a natural compound made in part with a base of consumption safe grain alcohol.  It does not contain wax and when applied, must be allowed to dry completely prior to reinserting the pegs. It may take up to a week or two for your pegs to fully settle (become less creaky). This usually applies only to a new or newly fit set of pegs. If you have more porous pegs, consider using a thin coat of Old Master Wax in conjunction with the Peg Magic.  Apply sparingly.
MSRP $12.50
---
VIOLIN SPIT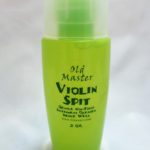 Violin Spit… it's a shocking name, but the fact is that most string players and fine violin shops will sometimes use human saliva to clean rosin build-up from instrument varnishes. This needs to be done each time you play your instrument because rosin is made up of 90% acid and should not be left to sit on your finish.  Human spit is a very effective solvent but not the most sanitary way to clean!  Our healthy, alternative formula has none of the nasty bacteria and cleans even more effectively. We use a slightly higher concentration of enzymes than in saliva, a natural organic surfactant (to lift the dirt), and a blend of natural food grade preservatives to protect the formula in a deionized water base. Try Violin Spit along with the Old Master Microfiber Cleaning Cloth (below), it's the most effective and gentle daily cleaner for string instruments. For a more aggressive occasional approach to remove rosin from your instrument bow and strings use Old Master String Cleaner & Rosin Remover.
MSRP $9.95
---
 OLD MASTER WAX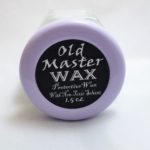 Old Master Wax is a natural paste wax that leaves a hard but flexible coating to protect even the most valuable instruments. Museums around the world use this wax to protect priceless artifacts made of wood, leather, metal and other valuable materials. Old Master Wax used on the fingerboard and the unvarnished back of an instrument's neck properly seals the wood while leaving a great look and feel. Old Master Wax on the body of an instrument will provide long lasting protection from rosin and the elements. Old Master Wax applied properly will never build up. The non-toxic solvents in each new coat will remove the previous coat.
MSRP $12.50 – 1 oz
---
OLD MASTER POLISH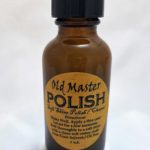 Old Master Polish is a liquid wax-based polish that leaves a soft shine and a thin protective coat on the instrument preventing the rosin from etching the finish. Unlike competitor products that use Xylene (a highly toxic chemical) that can soak into the wood and permanently dampen the tone of the instrument, Old Master Polish does not use oils and sits only on the surface of the instrument. When applied properly Old Master Polish will never builds up. The non-toxic solvents in each new coat will remove the previous coat.
MSRP $17.50
---
Piano Care Products
STRAVARI SATIN PIANO POLISH
Easy to use and very gentle on pianos.  Handcrafted in Colorado in small batches. Produces a beautiful satin shine. 9 oz
MSRP $19.95
---
STRAVARI PIANO KEY SPIT
Old Master Piano Spit is an all-natural piano key cleaner.  Inspired by Violin Spit, the Piano Spit contains no solvents that can damage ivory or plastic piano keys. Piano Spit is a very effective way to clean your piano keys. We use natural enzymes and organic yucca surfactants to lift the dirt with a blend of natural food grade preservatives to protect the formula in a deionized water base. Try Old Master Piano Spit, it's the most effective and gentle cleaner for cleaning your piano keys. 3 oz
MSRP $12.50
http://stravari.com/cleaners/